Snowgunz Snowgunz Monoski Flake Shot (FREERIDE)
Snowgunz Snowgunz Monoski Flake Shot
Purely focused on freeride monoski!
In the 1970s / 80s - the monoski, skwal, telemarks, split skis ..
You see them less on the slopes than before, but the monoski has gone back!
In France, a monoski weekend is still organized twice a year.
Off-piste and Freeride
Previously, the monoski was mainly used to ski in powder snow because there were no wide skis available at the time. Carven and regular the piste were not seen as direct opportunity. The Flake shot series has once again been targeted, wider and stiffer monoski's of Snowgunz, on the other hand, have been specially developed for:
30% on-piste
70% Freeride
The conical shape of the boards ensures that the board is able to handle both the piste and the thicker or papery snow on forest tracks and cuts.
Thanks to this conical shape, you can also work out with these monoski's carven!
The boards are made of a poplar wood core, 100% Woodcore with ABS sidewalls, which adds extra firmness and grip during carving.

Alpine Rocket monoski types
The Alpine Rocket monoski series is aimed at the monocarrier who likes to use the slope but occasionally also takes a piece of powder or a hill.

The monoski in the Alpine Rocket is in three grades. The longer the more difficult the maneuvering can be made but more speed. This is therefore the same as its application:
| | | |
| --- | --- | --- |
| Fashion model | Experience | Length |
| Giant | Starting | 178 cm |
| Speed | Advanced | 186 cm |
| Derby | Expert | 199 cm |
Alpine Rocket Monoski Features:
Conical shape (Radius Giant approx. 14m / Derby approximately 32m)
100% Full Woodcore, reinforced with glass fibers
Sidewall ABS
High-finish Sintered Base, 8k-16k (Iso Sport)
Sandwich Construction
4 layers of fibers (Quadraxes Fibers) for composition CAP structure
Phenol around bond for firmness and damping
Bindings
The monoski bindings are already set for your delivery before delivery.
To determine which bindings apply to you, we have compiled the following summary for you: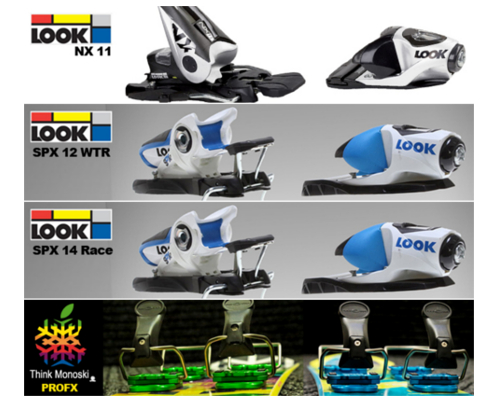 Adjust information and ski distance
The monoski is delivered completely.
The information we need is your:
Weight in KG
Skating size
Current ski boots brand / type
Skiing distance (entraxe) in cm
The skyscraper distance or on his French 'Entraxe' determines how close the shoes on the board are. See below an image to determine this: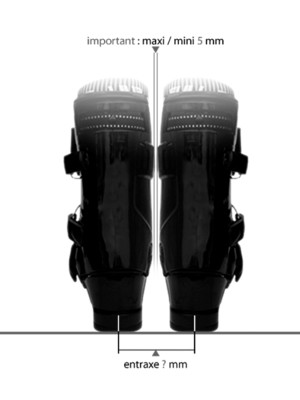 Please note that the distance between the shoe is 5mm for any expansion on the shoe. The entraxes are calculated from the center, the shaft, of the shoe.
Via wintersort4all een mono ski besteld. En direct op vakantie adres laten bezorgen via gls met track tracé. Allemaal top geregeld. Super fijne alles kunnen moni ski van gunz. Echt een aanrader vooor piste en off piste wedeln en slalom.