Snowgunz Monoski | Easy Ski Serie
Snowgunz Easy Ski Monoski serie
In the ´70/80 invented - the monoski, skwal, telemark skis, split skis ..
Nowadays you see them less on the track as before but the monoski is back!
Twice a year in France a monoski weekend is organized.
On-piste, Carven en Freeride
Previously, the monoski was mainly used to ski in powder snow because at that moment wide skis were not on the market available. Carving and regular slopes was not seen as a direct opportunity. Easy ski monoski series of Snowgunz does have this option and are designed specifically for:
70% on-piste
30% Freeride
The conical shape of the boards ensures that the Board both on the slopes is easy to handle as the thicker or mushy snow on forest trails and shortcuts. Through this conical shape, you can also carve perfectly with  these monoskis!
Easy monoski types
Easy ski monoski series is aimed at the starting mono skier.
The monoskie is available in three types:
| | | |
| --- | --- | --- |
| Model | Age | Length |
| Kids  | 7-9 | 149 cm |
| Teens | 9-15 | 159 cm |
| Adult | 15+ | 169 cm |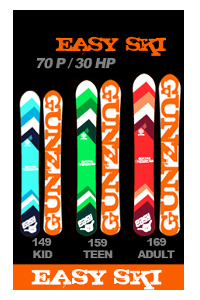 Snowgunz´s Easy Ski Monoski Featuers:
Conical shape (approximately 11m radius Adult / Kids approximately 9m)
100% Full Woodcore
Sidewall ABS
High finish Sintered Base, 8k (Iso Sport)
CAP Construction
4 layers of fibers (Quadraxes Fibers) for composition CAP structure
Phenol around bond strength and damping
Bindings
The bindings for the monoski will be installed and set already before delivery.
To examine the bindings for you apply, we have made the following list just for you: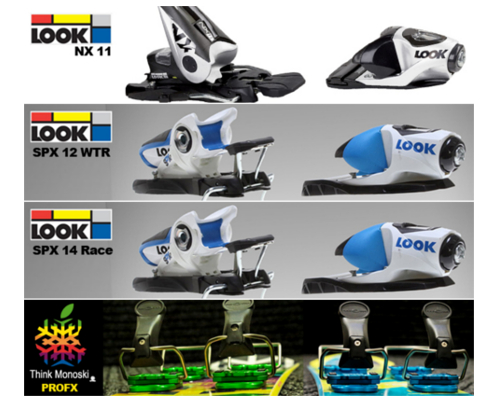 Tuning information and ski boot distance (entraxe)
The monoski is delivered fully adjusted.
Information we need for this are your:
Weight in KG
Skiboot size
Current skiboot brand / model
Skiboot distance (entraxe) in cm
The skiboot distance or at Frans 'Entraxe' determines how close the shoes on the board to stand together. See below an image to determine this: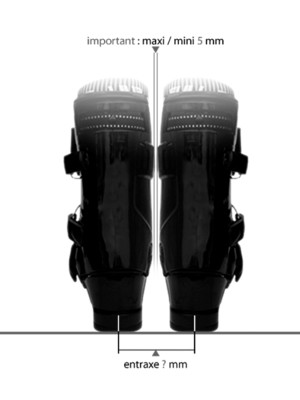 This 5mm is to ensure space for any expansion in power transmission in the shoe.
The entraxe word of the middle shaft, calculates the shoe.
| | |
| --- | --- |
| Boards: | Soft/Medium flex (Dual Hardness) |
| Length / Size: | 149 / 159 / 169 cm |
Great product and arrived within 2 weeks time at my address in Canada.
Good jb Nick!
Alle grote sportzaken afgereden in midden nederland voor de aanschaf van een Monoski, en het enige wat je tehoren krijg als service "Dan moet u in Frankrijk wezen". Nou dan ben ik blij dat Frankrijk in Almere-Buiten ligt, want daar krijg ik een service die helemaal van deze tijd is men reageerd zelf op zondagavond telefonisch op een verstuurde email en men komt de afspraken snel en correct na. En binnen 10 dagen alles geleverd inclusief gemonteerde bindingen. In een woord klasse en een dikke pluim voor deze internet winkel met persoonlijke aandacht.
Hallo, de Monoski is erg naar mijn zin. Ik heb mijn oude ski vervangen na 10 jaar en deze voldoet helemaal aan mijn wensen!