Posted on
By Wintersport4ALL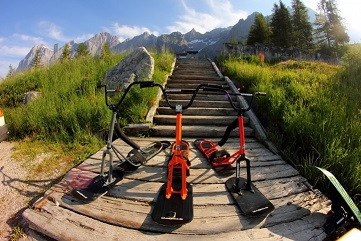 In this article we will explain everything about the differences between SnowBaar Snowscoots. Here the differences emerged between the Classic, Pro, Race and World Cup snowscoot series.
Comparison of Snowbaar Snowscoots
Snowbaar
 is established in 2012 and started at that point with producing 
snowscoots
. he snowscoots are made and finished in the Czech Republic. The brand is a counterpart of Jykk, Insane Toys and Black Mountain.
Currently, Snowbaar has 2 snowscoot types:
- Snaker -> Racing model and focused on Freeride
- Beaster -> Jump and Tricks model focused on Freestyle
In addition, this divided into four series, which are all aimed at a particular type of user and type snowscoot skill with Snowscooting:
- Classic
- PRO
- RACE
- World Cup
Which differences are important in your choice?
In addition to the optical differences of mostly color composition you should also pay attention to the technical differences. Here, each parameter indicates how important it is in your choice:
Ømm material;
- The snowscoots Snow Baar are all made of steel. Between the models is a difference in choice of steel, and the thickness thereof. If you remain on-track and picks up only the simple slopes is a 20-24mm diameters fine. you still going for a jump, trick and possibly off-piste then we recommend the 28mm due to the strength but also the weight of the frame.
Size
Weight;
- The lighter the snowscoot the easier it is here it perform tricks and jumps.
handlebar;
- The more you require of snowscoot the more pressure will carry you. Hence the handlebar is wider and higher as you go up in the series.
pads
- This is quite an important factor. The Pads are the attenuation between the board and the frame. Are you going nothing "crazy" to do with the snowscoot sufficient 20-40 SHA. But if you go on jumps and trick is still our advice is to go for the 60-70 Sha (Race and World Cup series).
grips
- The more you require of snowscoot the more grip you want during Snowscooting. A good grip on the handles is important.
Standing Plate
- This is nice from the Race and World Cup series. Here are pins on the foot platform installed that prevents slipping. Here, too, again, the more you ask / require the snowscoot this is relevant to you during Snowscooting.
boards
- Snow Baar The boards are all assembled with a CAP structure. A cap structure means that the layers are not compressed, but the upper layer is folded around the other layers. A CAP structure is an excellent board. If you really want a sandwich board is advised to the next level. This is not available to Snow Baar. For this you must go to the Jykk Style A / G.
Dual hardness means there is used before and behind another flex / hardness.
Capacity
- Not least, this shows to what weight the snowscoot is built.
Vergelijking per model - Snaker en Beaster
Onderstaand een vergelijking van de modellen opgesplitst per model Snaker en Beaster.