Snowbaar Snowable Gangster (Snaker Freeride)
SNOWBAAR GANGSTER
Light, suspended and extra floating carbon fiber 'edged' boards!
The Snowbaar Gangster is the new parade horse of Snowbaar. The model has a suspension fork that brings comfort and new possibilities. Because of the suspension you will feel less jumps and bumps. The 'spartan' feeling will also be a lot less. A suspension on the Snowscoot gives a lot of comfort and at the end of the day another advantage, less muscle pain due to the load / cramp in your arms.
In addition to the suspension, a completely new board set has also been developed for the Gangster model. The boards have improved a lot and are aimed at getting the maximum out of every situation. What has improved?
Pointed shape through which the snow can be better 'cut', this is especially with powder snow / off-piste top!
Sandwich / Sidewall board structure provides extra strength
Carbon fibers that improve the hardness to a hardflex board set and therefore ideal for carving and speed.
This model can also be sprayed in any color!
Differences between the SNAKER Freeride models: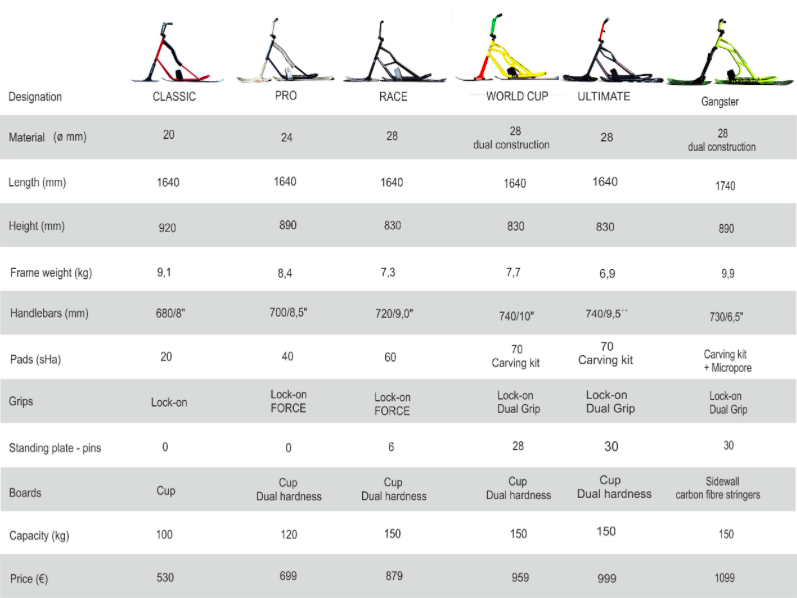 SNOWBAAR GANGSTER (Snaker series) features:
Freerider model (race and speed oriented)
Frame: Steel 28mm - Dual construction
Fork: Steel 28mm - Suntour Raidon RL-R 100 mm
Length: 1740mm (longer for more speed and stability)
Height: 890mm
Boards: Sandwich construction - wood core base - carbon finish

Board for - Super Hard Flex
Board acther - Super Hard Flex

Weight: Frame 9.9kg / Boardset 2,9
De Snowbaar Gangster ziet er supergaaf uit. Gisteren getest (in Snowwworld, dus nog niet echt) en voelt snel en superstabiel. Ook rustig over hobbels door voorvering. Stabiliteit komt denk ik ook door voorvorkhoek.

De print op het board was anders dan op de foto's. Ik vind ze mooier, maar een ander zou teleurgesteld kunnen zijn. En sommige stickers op het frame blijven denk ik niet lang zitten, die voelen een beetje goedkoop.
Het zakendoen met Nick is prettig, direct en betrouwbaar. Hij geeft goede adviezen. Aanrader dus!