Jykk 70 Antoni Blue (AP-2 boardset)
Jykk Snowscoot 70 - Anton Villoni
The snowscoot inspired by professional snowscoot rider Anton Villoni has extra wide boards for the best off-piste and freestyle piste rides. The boards are super hard and rigid to absorb the most extreme forces. The model is based on the 70 model of 2018 incl. SAS system.
The Jykk 70 is in this model for 70 ° degrees. This means that the deck you are standing on versus the front fork is 70 degrees. With the other models this is 65-67.5 ° degrees. Because of this adjustment it is easy to perform tricks as the front fork is on the right and the handlebar is a bit further away from you. This adjustment also ensures that the Jykk 70:
A larger space between the steering wheel and the body that helps with tricks.
It is easier to perform tricks with a twist of the frame since you have to turn a lesser angle.
Smaller people find this model easier to use because you do not have to put as much pressure on the steering wheel here as other models do.
The snowscoot is more manageable and more direct to handle.
Click on the links below if you want to know more about:
Rider style Jykk 70 Anton Villoni 70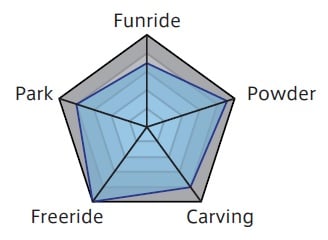 Jykk 70 AP-2 properties:
Frame: A6061 Aluminum
Fork: A6061 Aluminum, O-shape Plate
Headset: Integral Headset (1-1 / 8 ")
Handlebar: CrMo 8.5 inch
Voice: 53 mm extension
H / T: 70.0 °
Deck: width 186 mm
Board: AP-2, ABS Sidewall, Core Wood-core,
Sole: ISO 7500
Flex Front: Hard / Rear: Super Hard

The snowscoot is delivered including safety leash and toolset.
| | |
| --- | --- |
| Weight: | 10,6 kg |
| Boards: | Hard | Superhard Flex |