Neck warmer with mouth mask for winter sports against Corona / Covid-19, made with interchangeable FFP-2 filter system
Neck warmer and mouth mask with FFP-2 Filter system
Supplied as standard with 3 interchangeable FFP-2 filter systems
For this winter sport, a mouth mask or mouth cap is mandatory for winter sports in Germany, France, Austria and Switzerland. The Patrol neck warmer and mouth mask with exchangeable FFP2 filter system, developed in Switzerland, is the alternative to the standard mouth cap during winter sports. Due to the exchangeable FFP2 filter, it offers more protection (> 99%) than standard neck warmers and/or scarves currently available. The Patrol neck warmer has been approved by the Swiss TESTEX and Nelson Lab USA and meets the recommendations of the Swiss Covid-19 Task Force.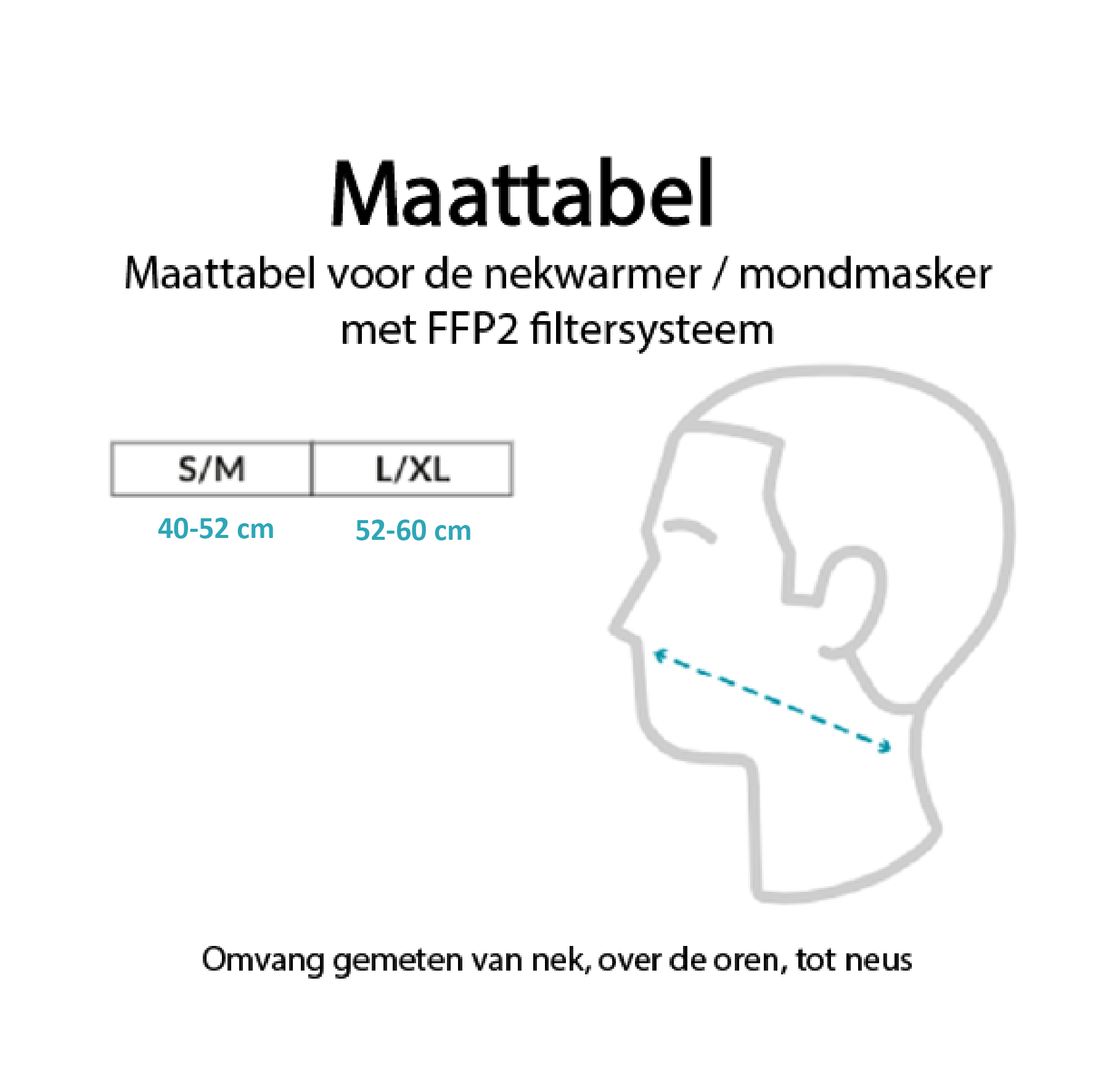 Please note, are you on the edge between 2 sizes? Then go for the S/M variant. The neck warmer has enough stretch to absorb this.
Specification
Outer layer
Moisture and wind protection
Brings out moisture
Ergonomic fit
Composition: 95% PA / 5% EL
Interchangeable filters
Standard 3 interchangeable filters included
3-layer high-performance FFP2 filter system
High-tech mechanical filter system
> 95% PFE at 0.1 µm (microns)
Composition: 100% polypropylene
Tested by Nelson Labs US and Testex AG Swiss
Inner layer
Highly breathable filter change system
Filter protection bag with side opening
Soft-touch textile for maximum comfort
Composition: 75% Nylon / 25% Elastane
Certification:
Hygiene seal
The packaging of the neck warmers and filter sets has a hygiene seal. This means that the item can only be returned if the hygiene seal is still completely intact.
Masker voor wintersport past perfect. Mooie oplossing i.p.v. onhandig mondkapje.